Baby Name by I-Ching Lucky Numbers
Find a Lucky Name for New Born Baby

Chinese I-Ching Numerology tells us the following numbers are lucky numbers. 1, 3 , 5, 6, 7, 8, 11, 13, 15, 16, 17, 18, 21, 23, 24, 25... etc. When it applies to people names, there is a rule for the luckist name.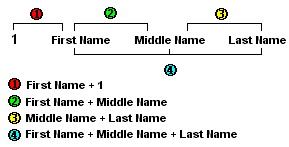 The letter count of first name, middle name and last name must be lucky numbers.
The sum of (1) (2) (3) and (4) letter counts must be lucky numbers.
If you want to choose a lucky name for a new born baby, you need to find the lucky combinations by your last name from the Lucky Numbers from I-Ching page first. The following is to help you find the available names with your lucky number.
A lucky name is not a perfect name. A perfect name needs a consideration of baby's Five Elements. The information about baby's Five Elements can be found from Chinese Fortune Calendar. Click here to understand Fortune-Telling Perfect Name.

The Charts are provided by Chinese Fortune Angel software