Celebrity's Chinese Astrology
Unbelievable Five Element Life Balance Chart
In the web page of Concise Chinese Astrology (Find the secret of your Life), displays people's Rise and Fall Life Bar Chart simply by using the balance theory of Five Elements. The chart is quite accountable after testing hundreds of birth data.

The nine red bar charts are calculated from people's Chinese astrology major cycles. Many people can see their best 10 years from this chart. In order to find the real lucky years, some people need to see the detail Life Balance Chart, which are calculated from major cycles and annual cycles and can be found in the Chinese Fortune Angel software.
How good is the Five Element Life Balance Chart?
If you are not old enough, you might not know the value of the Life Balance Chart. The easiest way to find the Life Balance Chart is accountable or not is to try the celebrity birth data. The following demonstrations of celebrity birth data using the Life Balance Chart and the Opportunity Chart are provided by the Chinese Fortune Angel software.
Adam Lanza - Sandy Hook School Shooter - Chinese Horoscope
---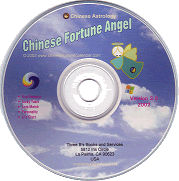 More about Chinese Fortune Angel
How to Order with Promotion Price
---