Chinese Fortune Angel - Options Setup
---
When you select the File item from the menu bar the Printer Setup and System Options will appear.

Select Exit to quit the application
Select Printer Setup to choose a different printer or paper format
Select System Options to configure the internal setup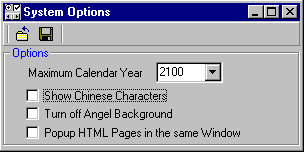 Maximum Calendar Year - Limits the years in all of the combo boxes in the astrology windows. The maximum year in the calendar is up to 2200.
Show Chinese Characters - Option to display Chinese characters or astrology symbols.
Turn off Angel Background - To save memory usage, then turn off the background image
Popup HTML pages in the same Window - If this item is checked, the help and astrology HTML pages will be displayed in the same window. However, the Internet web site page is always displayed in a new window.
Note:
From the

tool bar, click the

Panda icon to use the Chinese characters option and click the

USA Flag icon to use the astrology symbols option.
---

Home of Chinese Fortune Angel