Chinese Fortune Angel - Love Match
---
Love Compatibility Test
| | |
| --- | --- |
| | To use the Love Match feature, select Astrology from the menu bar, then click the Fast Love Match item from the drop down or simply click the Love Match icon on the tool bar. |
---
The Love Match in Chinese Astrology checks the compatibility of any two people. The Love Match can determine compatibility with a lover, friend, parent, sibling, boss, teacher or business partner.

It will show two matching scores. The Love Match score is derived from the relationships between the Stems and Branches of the two people. The Five Element Unbalance Coefficient score is developed from the balance theory between the Five Elements.
To perform the Love Match test, enter both parties birthday and birth time, then click the

OK icon . The Love Match score and the Five Element Unbalance Coefficient score will be shown on the screen.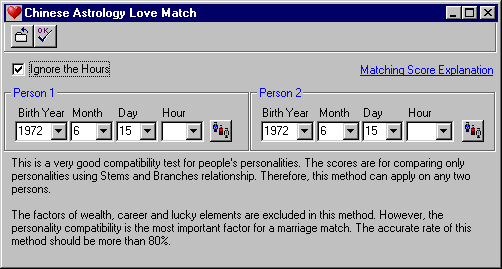 The higher the Love Match score the better the personality match. The lower Unbalanced Coefficient score the better the love match. Click on the Matching Score explanation to find more information about Love Match and Unbalanced Coefficient scores.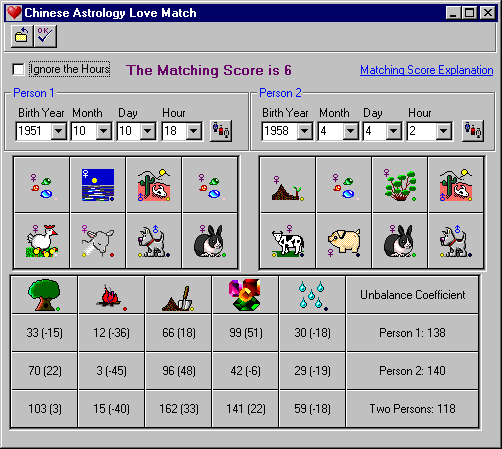 If the birth times are unknown, then check the Ignore the Hours box.
If the matching names are in the database, then click the

People icon to popup the name listing from the database. Double-click on the name in the Name List popup window and the birth data will be filled into the birthday and birth time fields.
To close the Love Match window, click on the

Close icon.
---

Home of Chinese Fortune Angel