Upgrade to Chinese Fortune Angel Premium Version
Introduction
The Chinese Fortune Angel PC software is a Chinese Astrology application. The basic concept of this application comes from the Chinese astrology balance theory of Yin Yang and the Five Elements. This software is designed to assist people understand the conditions in the universe that affect them by using a Rise and Fall Bar Chart of their entire life. In this way, people are able to get a whole picture of their life instantly. Even fortune-tellers can't give people this instant information.
The Chinese Fortune Angel concentrates on people's luck and Love Match. It contains six major components.
| | |
| --- | --- |
| Fast Love Match | Displays the Love Compatibility and Five Element Balance Scores using two people's birthdays and times |
| Life Balance Chart | Demonstrates The Rise and Fall Life Chart using the Major cycles and Yearly cycles |
| Opportunity Chart | Shows the Money, Career and Lucky Element opportunities in the Life Chart |
| Personality Chart | Calculates the Five Element weights to analyze a person's personality |
| Find Lucky Element | Uses multiple Astrology theories to determine a person's Lucky Element |
| Dating Tools | Love Matches with all people in database And Find Lucky Days for Dating |
The Chinese Fortune Angel PC software also provides a database to keep people's names and birthdays. This feature is handy when you want to do the Love Match.
Instructions - How to Use
Click the hot spots (the

Link Select Pointer will appear when you are on a hot spot) on the following Chinese Fortune Angel software main screen to display the help pages on how to use the software. After reviewing the help topic for a specific item, click the Home of the Chinese Angel icon at the bottom of the help page.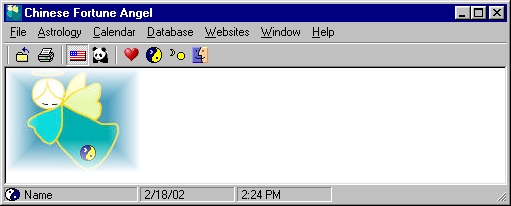 Chinese Fortune Angel Main Screen
---

&copy 2001- www.chinesefortunecalendar.com and www.fortuneangel.com