Chinese Farmer's Calendar - Website Links
---
When the Websites item in the menu bar is selected, the Related Websites dropdown menu will appear.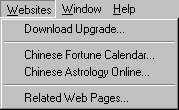 Chinese Astrology Calendar Website Links
Download Upgrade - Downloads the most current available modules from www.fortuneangel.com/farmer/download.htm
Chinese Fortune Calendar introduces all calendars related to Chinese astrology.
Chinese Astrology Online is a mirror site of www.chinesefortunecalendar.com.
Related Web Pages is jump to this HTML page.
Related Website Links
Five Elements Quiz - Personality Test to find your Five Elements
World Time Zone - Get World Time Zone Maps from the U.S. Navy Observatory
Geography: Time Zone - More Time Zone and Longitude
Chinese Calendar from Dr. Helmer Aslaksen - University of Singapore
The Chinese Calendar - Very good reading material
Books
The Balancing Act: Mastering the Five Elements of Success in Life, Relationships, and Work
Chinese Websites
Taiwanese National Education Research Center - Convert Chinese Lunar Calendar before 1900
---

Home of Chinese Farmer's Calendar